| | |
| --- | --- |
| Posted on July 20, 2017 at 9:20 AM | |
Please check the Documents Tab (under More in the header) for updated forms. You may turn these forms in at the band camp parent meeting or at any practice prior to leaving for band camp. Some forms may require a doctor's signature, so please review as soon as possible.
| | |
| --- | --- |
| Posted on April 5, 2017 at 11:10 AM | |
The LHS Spring Band and Choir Concert will be held on May 15, 2017 in the High School Auditorium.
| | |
| --- | --- |
| Posted on April 5, 2017 at 11:05 AM | |
London Music Boosters annual flower basket fundraiser is being held from now until Monday, April 17, 2017. Checks are to be made out to Red Raider Music. ALL MONEY & ORDER FORMS NEED TO BE TURNED INTO LHS TRACK CONCESSION STAND 4:30-7:30 P.M. 4/17/17.
 
Order forms can be found on the Documents page.
 
-Flowers are to be picked up on Fri. 5/12/17 from 2:45 p.m.-5:00 p.m., outside FFA room, close to LHS stadium entrance.
| | |
| --- | --- |
| Posted on July 22, 2015 at 9:25 PM | |
London marching band will play the Shoe on October 3.  We're slated to play at 1:30.
| | |
| --- | --- |
| Posted on July 21, 2015 at 3:50 PM | |
To all parents that have children with prescription medication needed at band camp: We need them to go to the Londonredraidersmusic.org website and print off the "London City Schools Physician's Request for the Administration of Medication by School Personnel" form.
It needs to be completed & signed by their doctor or nurse practitioner before your child can go to camp.
If the link above does not work, visit Londonredraidersmusic.org and click  the More tab, then Document tab, and then click on PHYSICIAN FORM FOR RX.
If your child is not taking any prescription meds, they do NOT need to complete this form.
If you do not have access to a printer, Mrs. Fugate has some copies printed out the forms and would like to give them to the students at practice tonight to have their parents/guardians complete & obtain a MD or CNP signature on this form.
I realize there is not much time for this, however, I need these forms completed PRIOR TO LEAVING FOR BAND CAMP.
| | |
| --- | --- |
| Posted on May 6, 2015 at 3:35 PM | |
| | |
| --- | --- |
| Posted on April 29, 2015 at 4:50 PM | |
We are in GREAT NEED of color guard (flag) members for the marching band.  The color guard provides color with flags/silks, drama with their movement/dance and intrigue with their drill and other equipment (such as rifles).  We need 10-15 members on the field and we are several people short at this time.  This activity is for males and females who are currently in 7th-11th grade.  Please encourage people you know who are not currently involed in the band to come to a clinic.  They would be joining a very successful organization and have a lot of fun!!!!  No experience is required to join.  We just need people who are interested in trying something new who will be dedicated to this growing, successful organization!!!
| | |
| --- | --- |
| Posted on April 25, 2015 at 11:35 AM | |
LHS Spring Concert/Events Update
The Spring Concert will be at LHS on Wednesday, May 20th. All band members should report at 7:00 PM to warm up. When you arrive at LHS you will report to the band room. It is important that you are in the band room with your instrument out ready to warm up at the report time. We are sharing this concert with both high school choirs. They will perform first beginning at 7:00 PM. We will need to warm up quietly while they are performing on the stage. We will be giving band and choir awards at this concert and recognizing the Fine Arts Hall of Fame recipients. The concert attire is the red polo, black pants, shoes and socks. Ladies may choose to wear more "stylish" shoes if you wish.
All students who plan to participate in marching band next year need to attend our spring rehearsals. All percussionist will have rehearsals on 4/29, 5/6 and 5/13 at LHS from 3:30­6:00 PM. The whole marching band will rehearse on Tuesday, May 19th from 3:00­5:00 and Thursday, May 21st from 3:00­5:00 PM. It is important for us to get together to play through the music and establish summer contacts with people in your section. I would also like to do some marching at these rehearsals so please come with the proper footwear and water!
Other important dates before the end of the school year:
*Monday, May 4th­ Marching Band Parent meeting in LHS auditorium at 6:30 PM. Anyone planning to participate in marching band should attend this meeting!
*Tuesday, May 19th­Board meeting recognition for any band student who participated in solo and ensemble and/or an honor band this year. Please meet outside room 311 in LHS at 6:45 PM. (This is in the front of the building.) We should be done around 7:15 PM. Dress nice for the occasion
*Monday, May 25th –Memorial Day. Report to the Save­A­Lot parking lot at 9:15 AM. We will perform at the cemetery across the street at 10:00 AM and then immediately go to the courthouse. You will need your own transportation to the courthouse. You should not stop at McDonald's or anywhere else between the two events. Eat breakfast before you come and bring plenty of water. We will wear our summer uniform red polos, pants and black marching shoes. You may wear sunglasses.

*Thursday, May 28th –London Academy Graduation in LHS auditorium at 7:00 PM. Report time is 6:15 PM. Please wear your uniform. This is a tentative date and time as I have not confirmed this yet with the London Academy.

*Sunday, May 31st­ London High School Graduation in LHS gymnasium at 2:00 PM. Report time is 1:00 PM. Please wear your red polo, black pants and dress shoes.
We have accomplished so much this year including two trips to State!! I am so proud of everyone for their hard work and their commitment to making beautiful music. We will truly miss the senior class. Thank you for the many great years we had together. I hope you all continue to be makers, lovers and consumers of music for the rest of your life!
Sincerely,
Mrs. Fugate
If you haven't already you should sign up for text/email alerts by texting @londonband to 81010
| | |
| --- | --- |
| Posted on April 22, 2015 at 1:30 PM | |
Music and Arts is hosting the BOSTON BRASS at Grove City High School on May 28th. This is a FREE concert but you must RSVP. There are only 700 seats available and we do want to fill the place. Attached is more information. This is a super educational event and we are proud to present this to central Ohio. Please check it out and hopefully attend.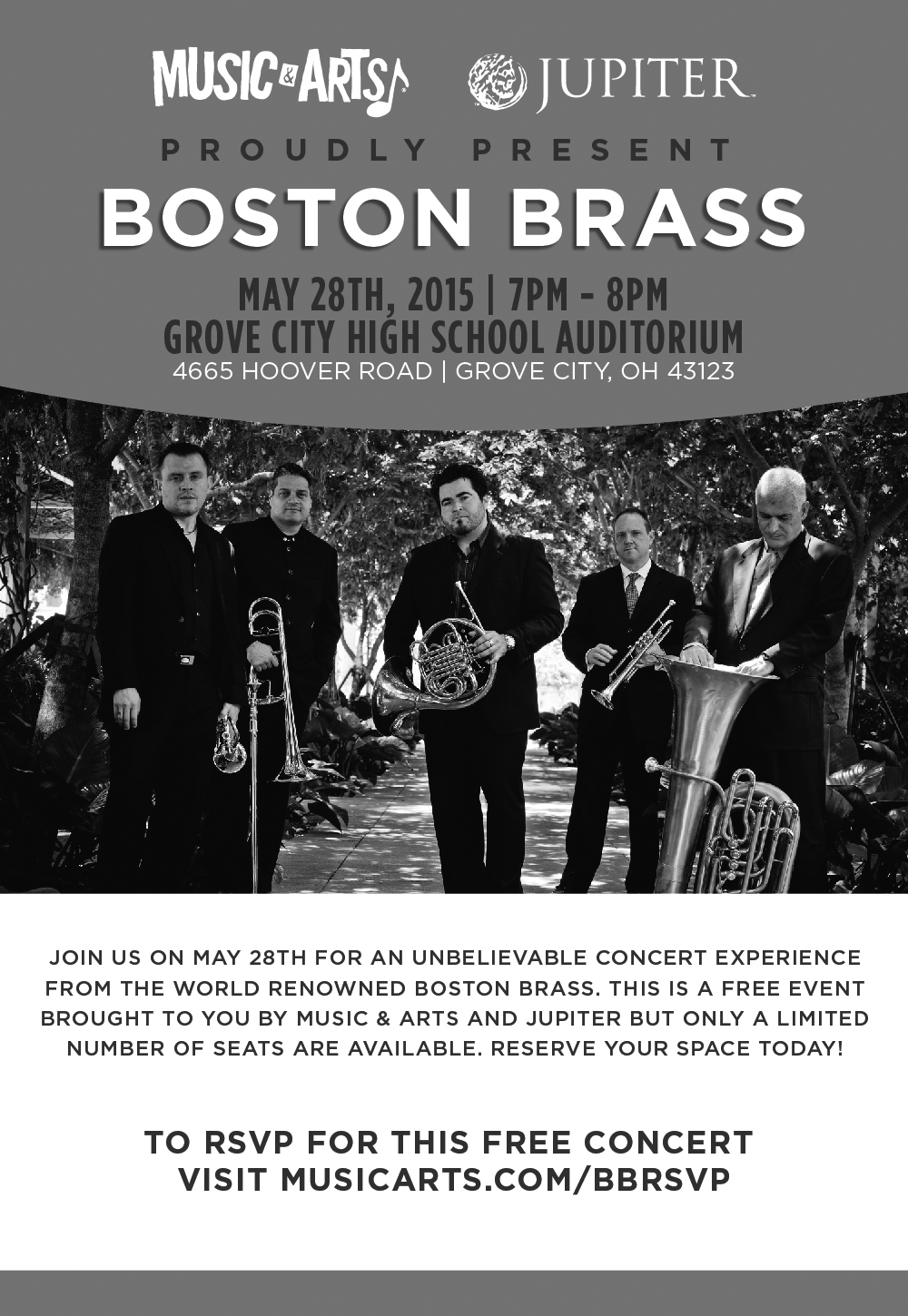 | | |
| --- | --- |
| Posted on April 22, 2015 at 1:30 PM | |
The London Marching Band is seeking individuals interested in serving as chaperones for Band Camp, to be held Sunday, July 26 thru Friday, July 31 at Urbana University.
Please contact Mrs. Fugate if you are interested and/or you would like to find out more information.